About FS Curtis
Since 1854 CURTIS-TOLEDO, Inc. has been designing and manufacturing solutions for industry. The FS-Curtis Air Compressors brand continues to be the symbol of quality and excellence in the design and manufacture of air compressors.
Dedicated to customers and loyal distributors, our brand names are synonymous with Legendary Reliability. CURTIS-TOLEDO® facilities include a 144,000 square foot facility in St. Louis, Missouri, as well as facility in San Diego, California.
Reciprocating 1-125hp Compressors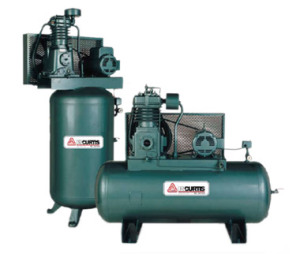 Masterline is the most robust, heavy duty reciprocating air compressor lineup available. The perfect combination of quality components and efficient design make the ML Series rugged, affordable and smart.
Because every model is built tough to last a lifetime in demanding working conditions, the ML Series is an outstanding alternative to splash-lubricated reciprocating compressors and small rotary compressors. Choose higher quality. Choose superior durability. Choose ML Series pressure lubricated air compressors.
Rotary Screw 5-300hp Compressors
Stable air pressure, steady airflow, and quieter, continuous-duty operation are just a few of the advantages you get with FS-Curtis rotary screw compressors. These smart, compact units also offer better air quality with less oil carryover than reciprocating models.
Simple controls and diagnostics make them easy to use and service, too. It all adds up to an extremely reliable machine that can run 100% continuous duty, delivering more airflow and better efficiency in a space-saving design — making the SEG Series ideal for automotive, light industrial and other applications that require reliable performance in demanding conditions.
Oil-Free Rotary Screw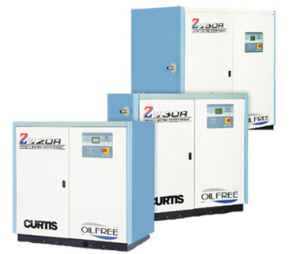 FS-Curtis ZW Series Oil Free Screw Compressors produce totally Oil-Less air with a water injected compression process that is completely free of any hydrocarbons.
Highly efficient, fixed speed models deliver up to 15% energy savings over dry screw type compressors. Low operating temperatures, slow direct-drive running speeds ensure high reliability with the most advanced air end in the industry.
Our Partners