About Champion Products
Since 1919 Champion has a solid reputation for providing the highest quality in reciprocating and rotary screw air compressor systems, parts and service. With over 85 years experience in designing and manufacturing air compressor systems, Champion knows and understands the application of our products in many different operating environments.
With over 800 approved Distributors and Service Centers Nationwide, Champion is well represented to sell or service your air compressor system.
Discover Champion and what we have to offer!
Champion Reciprocating Air Compressors
1/2 to 30hp / .37 to 22 kW
Wide variety of splash and pressure lubricated
Available in 50 or 60 HZ
Electric, gas, or diesel engine driven
Oil-Less Reciprocating
3/4 to 15 hp  / .56 to 11 kW
Single-stage and Two-stage
Ideal for health care, laboratories, and electronics manufacturing industries
Climate Control Systems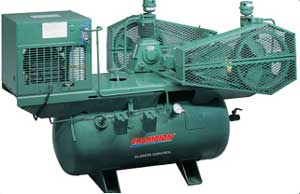 The Champion line of specially-designed climate control compressors represents years of intensive industrial research and testing. We've listened to the needs of the end user, and seen the short-comings of our competitors. The result is a line of machines suitable to critical industry demands for value and lasting performance. Features include low operating RPM for longer component life, lower operating temperatures, greater energy efficiency, inlet filter silencers and side-sealer piston rings (on selected models) for lower oil carry over.
Specifications and Features
½ -25 hp
2.2 – 102.5 acfm at 80 psig
Up to 175 psig maximum pressure on selected models
Tank or Base Mounted, Simplex & Duplex Models
Single & Two Stage
Air Cooled, Splash Lubricated
OSHA Approved Heavy Duty Enclosed Belt Guard
Factory filled with ChampLub lubricant
Champion Advantage Series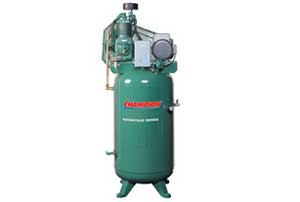 The Advantage Series is a fully packaged unit with all of the additional accessories customers need included. Advantage series compressors are typically shipped from the factory in 24 hours or less. Compressors are shipped ready to install and operate. Each new assembled unit has a five-year, pro-rated warranty on the compressor pump.
Specifications and Features
5 – 25 hp
Maximum Pressure Up to 175 psig
16.5 – 90.1 acfm at 175 psig
Two Stage, Splash Lubricated
Tank Mounted, Simplex and Duplex Models
Vertical or Horizontal Configurations
Package comes standard with up to six pre-installed options
Factory filled with ChampLub lubricant
Our Partners