About Atlas Copco
With a tradition of innovation dating back to the Group's foundation in 1873, Atlas Copco's business has evolved into four distinct business areas, with today's equipment delivering unparalleled levels of efficiency.
The products and services range from compressed air and gas equipment to construction and mining equipment and industrial tools and assembly systems.
Visit our website, you will be able to follow the Group's path through the years, find out more about our 11 presidents and more…
Oil-injected Rotary Screw Compressors GX Series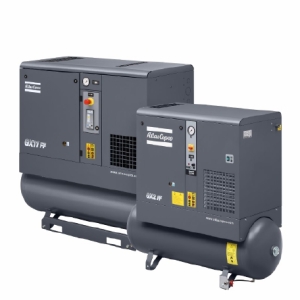 Atlas Copco's oil-injected rotary screw GX compressors are the powerful and reliable industrial screw compressors for small and medium sized industries. The GX compressors are available in various versions (floor mounted, tank mounted, with or without integrated dryer) to provide flexibility. Built from high-quality components and materials, they provide a reliable source of high-quality air in temperatures up to 46°C/115°F.
Customer benefits
Reliability –The GX series is designed, manufactured and tested in accordance with ISO 9001, ISO 14001 and ISO 1217. The screw compressor technology allows 100% continuous duty cycle and the reinforced frame eliminates resonance. GX compressors are built for a long lifetime of reliable operation.
Reduced energy costs – Our GX compressors offer the low energy consumption and high efficiency of a rotary screw compressor. Compared to piston compressors that suffer from increased energy consumption over time, these screw compressors always provide high efficiency.
Plug and play installation – In addition to boasting a minimum footprint, the GX series discharges cooling air from the top, allowing placement against the wall or in a corner. The tank mounted GX with built-in dryer reduces space requirements even further, making it ideal if you have limited space at your facility.
Easy maintenance – Service points are grouped together and are accessible through the removable panel. The spin-on oil separator and filter are designed to be easy to maintain. Maintenance is further simplified through information provided on the control panel.
Silent operation – Atlas Copco supplies GX compressors with full sound enclosures which reduce the sound levels to as low as 61 dB(A). The rotary screw technology minimizes vibration, while optimized cooling air flow enhances quiet operation.
Integrated air treatment – The GX 2-11 FF is available with an advanced built-in refrigerant air dryer. By cooling the compressed air and removing water before it can enter your compressed air network, it prevents rust in your compressed air piping and avoids damage to your air tools.
Oil-injected Rotary Screw Compressors, GA Series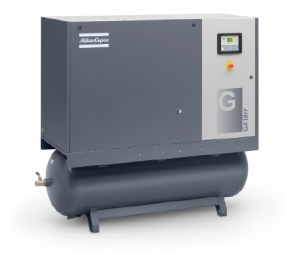 Atlas Copco's oil-injected rotary screw compressors are leader in the market thanks to outstanding performance and flexible operation. This results in the highest productivity while minimizing the total cost of ownership. GA compressors are built to perform even in the harshest environments; these products will keep your production running smoothly.
Customer Benefits
Highest reliability – The GA series is designed, manufactured and tested in accordance with ISO 9001, ISO 14001 and ISO 1217. Ensuring a long and trouble-free life at the lowest operating cost. GA compressors are equipped with the latest generation of Atlas Copco's innovative oil-injected screw element.
Reduced energy costs – Our GA compressors can reduce your energy costs and overall compressor lifecycle costs thanks to the use of our highly efficient element and motors, and minimal internal losses.
Air system integration – The GA WorkPlace Air System can be installed where you need compressed air. Its low noise operation and integrated air treatment equipment eliminates the need for a separate compressor room. All GA compressors are tested and delivered ready for use. The integrated options will reduce installation costs and pressure drops significantly, thus saving additional energy cost.
Advanced control and monitoring – To maximize efficiency and reliability, the Elektronikon® controls the main drive motor and regulates system pressure within a predefined and narrow pressure band. The Elektronikon® controller can be adapted to your specific needs with extra sensors, digital contacts, fieldbus, Internet and SMS communication functions. In combination with the ES multiple compressor controller, the operation of your complete compressor room is optimized.
Integrated air treatment – All GA compressors have integrated dryer and filters available to protect your compressed air network. This quality air expands the life of equipment, increasing efficiency and ensuring quality in your final product.
Our Partners